Tradition × Liberty
WAJIN Art T-shirts Japan has been continuing to create Japanese art T-shirts since its founding in 1995. At that time, T-shirts with Japanese drawings were very unusual, almost all of them were Western-style. In that kind of situation, we had started making T-shirts which have Japanese traditional designs printed on, to let people enjoy Japanese culture easily and intimately.

In 2002, we began to sell our products at Tokyo Narita International Airport, since then WAJIN T-shirts have been loved from various people in various countries to this day.

'JAPAN' which we want to express and share with you is not superficial designs, but Japanese craftsmen's carefulness or sensitivity, that is, our Japanese people's temperament. We do the whole process of making - spinning, cutting, dyeing, and sewing, printing - all in domestic factories. If you love Japan, or even though you do not so, we are sure that you feel Japan's goodness in 'JAPAN QUALITY' of our products.  
MATERIAL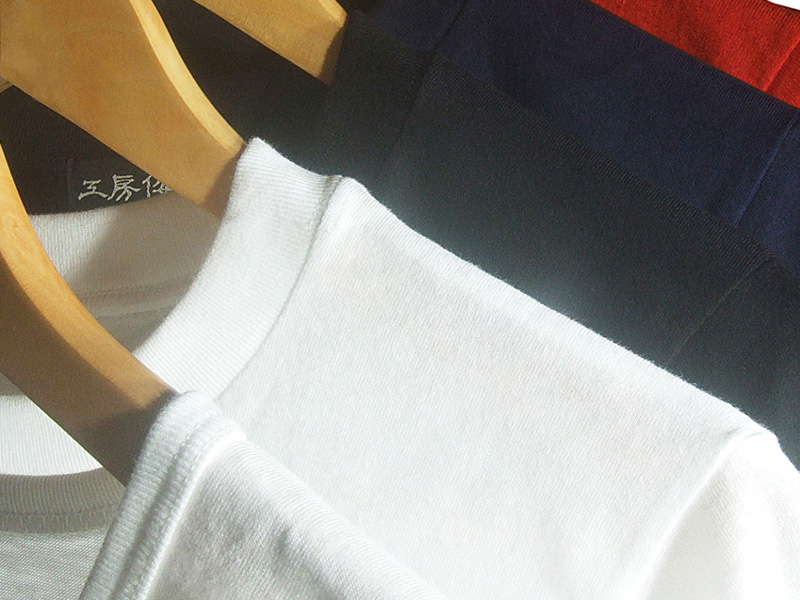 WAJIN T-shirts are produced by
KUME Co.,Ltd.
at Tokyo. KUME is one of the long-established manufacturer since 1935, that is the first company who had started to make outer T-shirts in Japan.
Their manufacturing process is further specialized, for example, in the sewing department, each part of sewing - cuff, shoulder, neckline, hem - is sewn by each specialist. These efforts are all for the perfection and the stability of products, they share the same goal, to crate T-shirts that can be used comfortably a lot longer. Please enjoy soft feeling of 100% cotton material which is very carefully knitted in domestic factory using a little bit thick yarn - count of twenty, and, tough and strong 'JAPAN QUALITY'!  
A lot of experience and knowledge that only long-established company can have, for example, sewing method which stands up to repeat of washings and pullings, or, ingenious devices, like to treble ribs of neckline for preventing it's stretch. These various attention that is introduced at a hidden place, is just feeling for user, and also their pride as craftsmen. If you put on, it is sure that you feel like 'Good thing is definitely good'. Please wear and wash repeatedly, and make that one of your favorite T-shirts!  
PRINT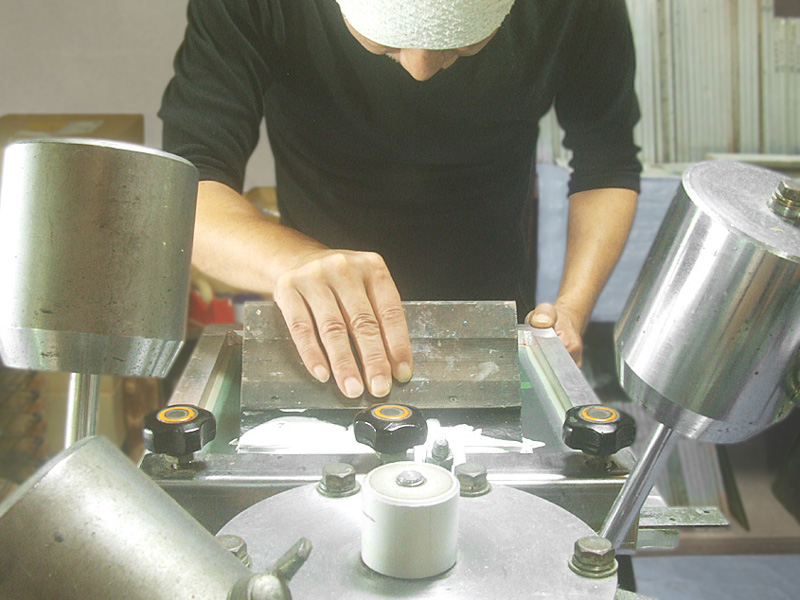 WAJIN T-shirts are all printed in water-based ink. Water-based ink dries quickly at normal temperatures, so it takes a lot of time compared to oil-based ink which does not dry without heat treatment. Instead, Water-based ink is eco-friendly, and first of all, the surface finish becomes tender.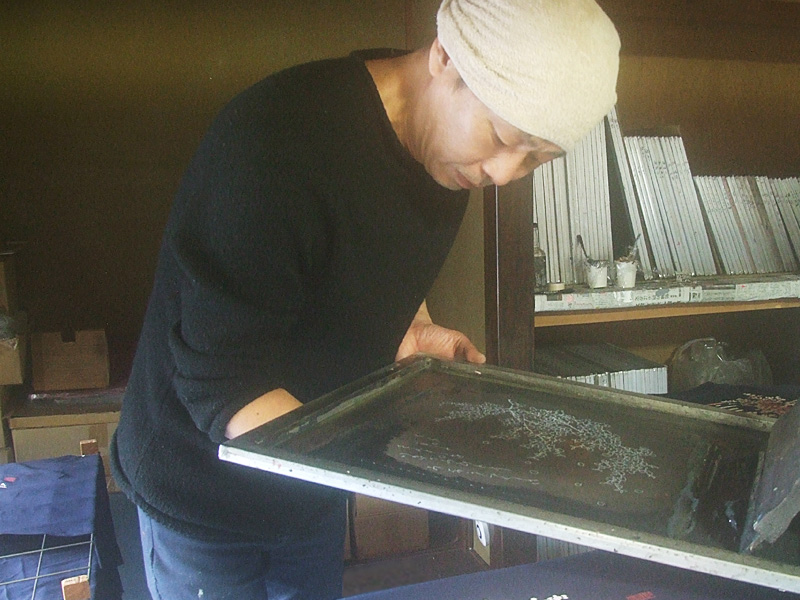 Especially, in case of printing on dark color material, we have to put a certain degree of ink for beautiful coloration, but if printing area becomes larger, sometimes hard feeling, like of oil-based ink disturbs comfortable wearing. We are always trying to lighten this and yet express beautiful coloring.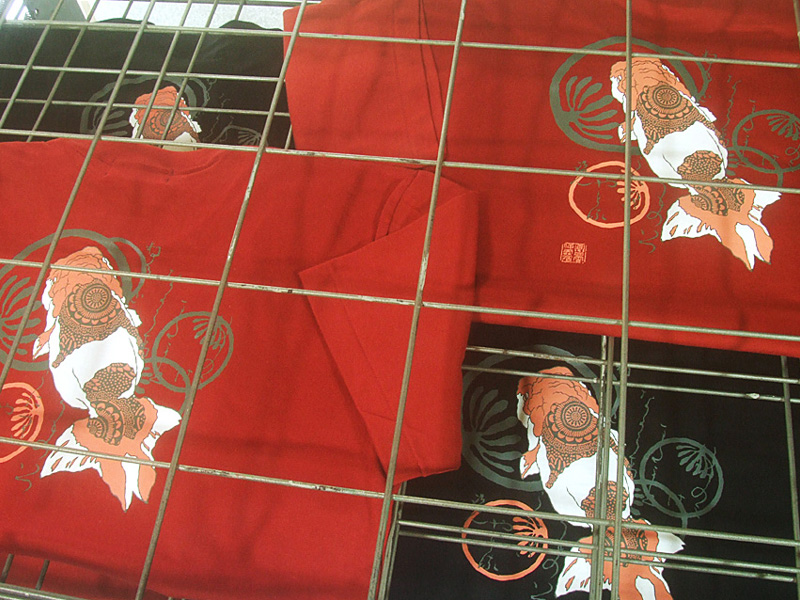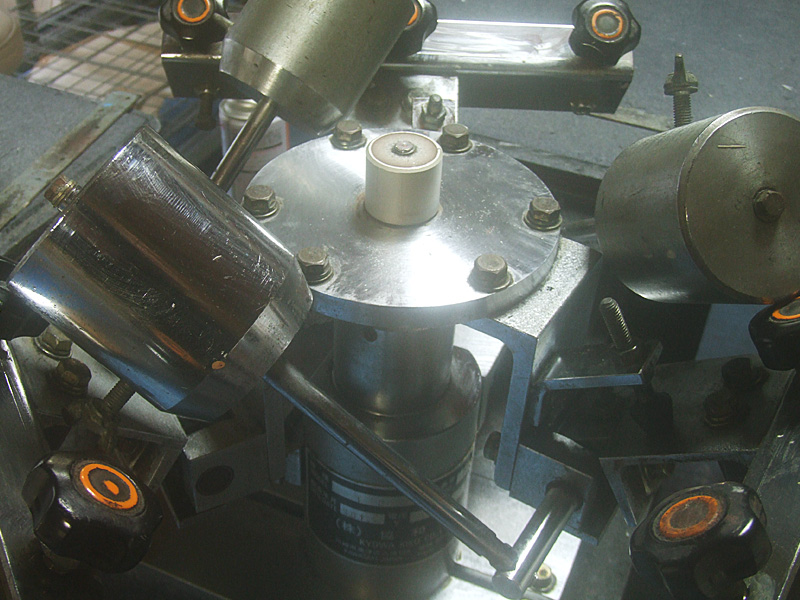 We use several different ink-bases according to the purpose, for example, we use glossy one to get the effect like 'Inden' - Japanese trditional crafts using lacquer -, or sometimes use mat ink to fit in with material, or use transparent ink for overprint to make three-dimensional effect. In general, printing tends to be thought as easy and good for mass production, but in actuality, that is very profound method which needs techniques and also experiences. WAJIN T-shirts are all printed by skilled artisan's hand one by one. We make print only minimum amount necessary at one time, considering printer's concentration and condition of the ink. We are always pursuing 'Today's style of Japan' which can be expressed by only silk screen printing.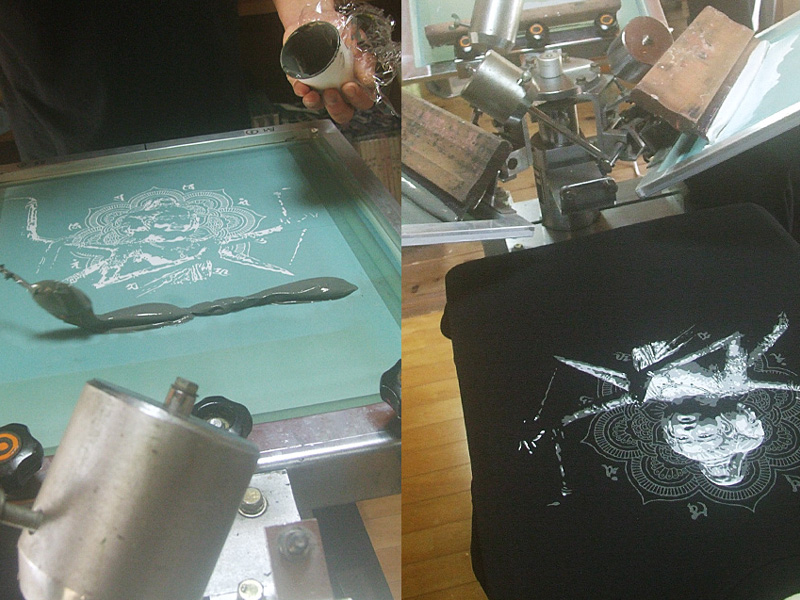 DESIGN
We value the style of Japanese traditional culture. Everything has a 'Style' or 'Form' that is the base of themselves. We think that it is difficult to express the true nature of something ignoring this fundamental part. The thing which calms free ideas or playful mind down well, that is, inherited 'Style'.  
WAJIN designs are all drawn by hand. We repeatedly make a rough sketch many times to get the convincing line. The impression of design changes depending on whether an inside or outside of the line width less than 1mm is adopted, therefore, in the next step, we download the rough sketch to the software of PC, and make black solid coating manuscript for each color which is called 'perfect block copy'. Then, we make the film using this block copy, and using this film, the silk screen printing plate is completed by exposing the solvent to light.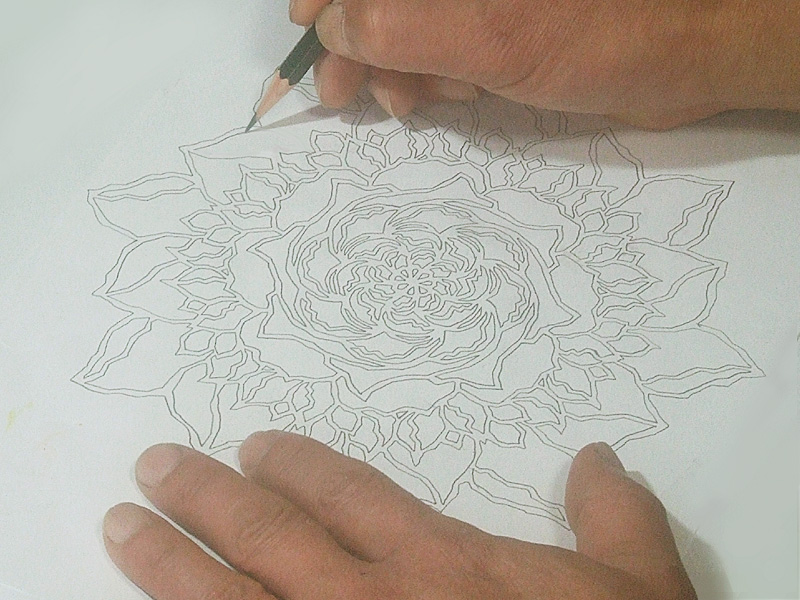 Enjoy a warm touch unique to hand drawing, and a modest color scheme featuring Japanese traditional colors, and, of course, beautiful unique Japanese designs!  
HARE - Tenugui -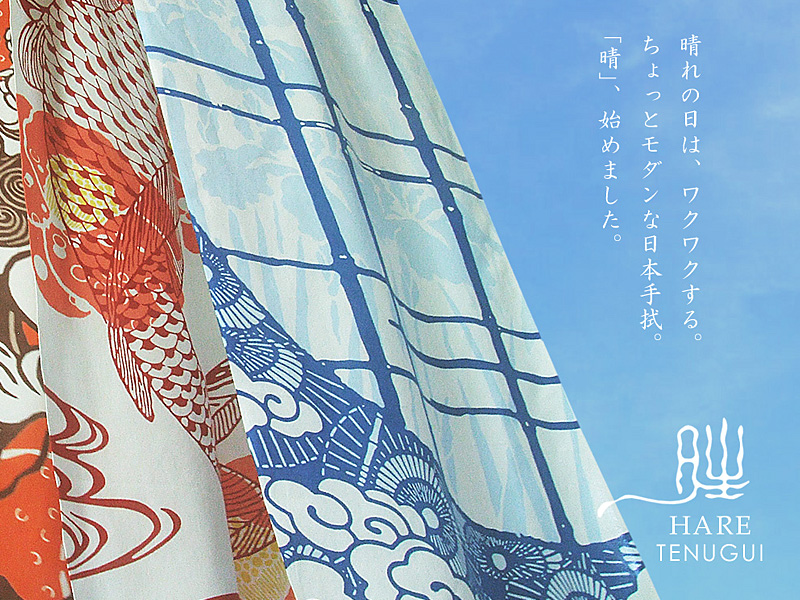 'Tenugui' is called as Japanese traditional towel, but that is unlike typical Western towel, made of more thinner and smooth cotton, and dyed variety of Japanese patterns. Tenugui can be used in various ways other than just drying hands or bodies, for example, used like tapestry for your room display, or as a place mat, like a scarf... please find your favorite style freely!
'HARE' is new Tenugui collection started in 2021 Spring. 'Hare' means 'Sunny' in Japanese, we hope you to feel happy like be under sunny sky with using our Tenugui. We offer really beautiful Japanese dyed cloth, not to be seen elsewhere even in Japan!  
Normaly Tenugui uses two types of cotton cloths, one is knitted by a little thick yarn loosely, called 'BUNN', and another is knitted by more thin yarn tightly, called 'OKA'. OKA is good for the delicate expression since it is very flat. HARE Tenugui is useing 'TOKU-OKA'(means special OKA) which is more tightly knitted than OKA, and it has property of strength and good feel!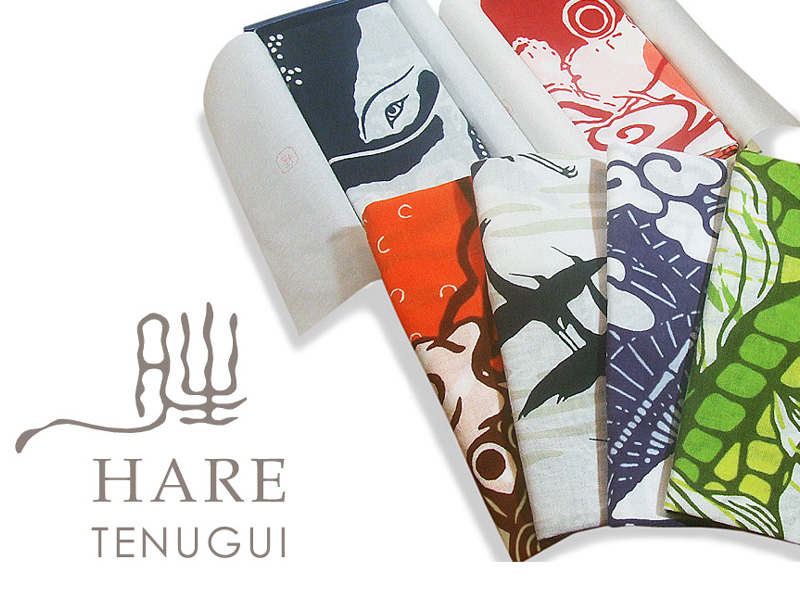 HARE Tenugui is dyed by 'Tenassen' that is the traditional techniques of dying using screen plate and starch mixed with dye.  
Also to use the way 'Reactive dye' makes beautiful graphics even if you see from the back. Making dyes permeate without dye bleeding thereon is the high-technique that only skilled artisan can have. Enjoy tender feeling of dyeing own and beautiful Japanese traditional art!  
GIVE JAPAN!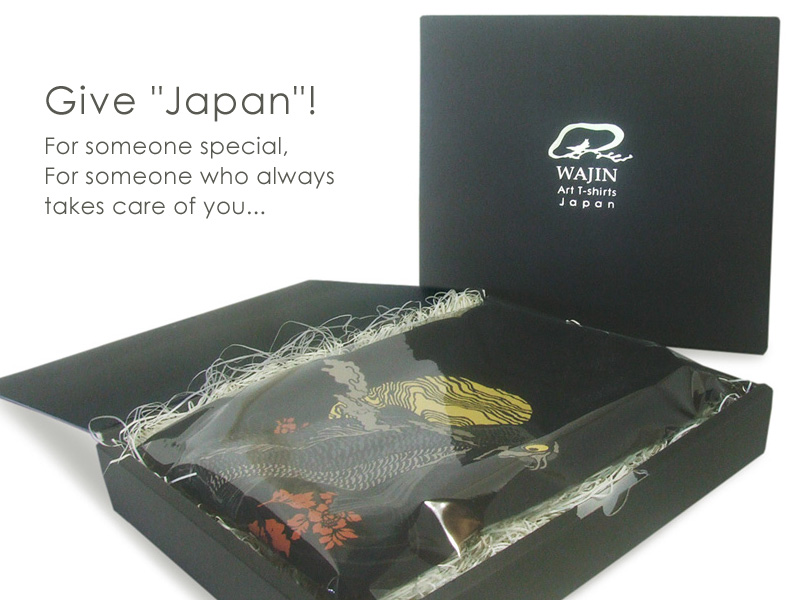 Our products has been receiving good reviews as also JAPANESE GIFT. T-shirt, which anyone can use casually or also stylishly, is perfect for the gift! Beautiful Japanese designs of rich variety, and wide width size from S to XXL must make everyone happy regardless of age or gender! Please use our UNIQUE and FINE-QUALITY products for the gift to your precious person in various scenes. All products can be cased in original stylish box with small charges!  
Information
2022 New designs - DRAGON FLOWER & ASHURA T-shirts - are on sale!
Review